NOTARY SERVICES
Free Notary Services are available at Borough Hall for all Folsom residents.

TAX MAPS NOW AVAILABLE
Please visit our tax office link

RESIDENTIAL E-WASTE PROGRAM
Free for residents. Drop off dates have been established starting March 14th.
More Information
NOTICE TO PET OWNERS-JANUARY 1, 2015-PET RENEWALS
All dogs and cats over 6 months of age are required to be licensed. Certification of Rabies Vaccination must be provided. Any license renewed after March 31, will be subject to a $5.00 late fee. For more information, please call 561-3178 ext 13.

RABIES CLINIC
The rabies clinic will be held on March 21, 2015 from 9:00am until 12:00pm at the Borough Garage. We will be renewing animal licenses at the clinic. For more information please contact the Borough Clerk at 561-3178.

Welcome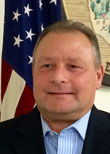 Mayor Louis DeStefano
The Borough of Folsom is a small rural community located in Atlantic County founded in the 1700's. The Borough is approximately eight (8) square miles and has a population of 1,885. We are thirty (30) miles west of Atlantic City and thirty-three (33) miles east of Philadelphia. The Borough is accessible by land via Atlantic City Expressway and Rt 322 just off both exits.
The Borough of Folsom is a community steeped in History and renowned for its sense of family and community. It's a great place to live and raise a family. New Jersey Monthly magazine ranked Folsom as its 19th best place to live in its 2008 rankings of the "Best Places to Live" in New Jersey, Folsom is a community with a proud past and promising future. Thank you for interest in our Borough.
DAYLIGHT SAVINGS TIME-MARCH 8,2015
REMEMBER TO TURN YOUR CLOCKS AHEAD
Folsom is participating in a Multi-Jurisdictional Hazard Mitigation Plan. A HMP is a living document that communities use to reduce their vulnerability to hazards. To inform and engage the public and other local and regional stakeholders in the planning process, a hazard mitigation planning website has been developed and can be visited at: www.aclink.org/PDM/.
*Photo is courtesy of Folsom resident Bill Bodine.