NOTARY SERVICES
Free Notary Services are available at Borough Hall for all Folsom residents.

TAX MAPS NOW AVAILABLE
Please visit our tax office link

FOR RESIDENTS WHO NEED HELP PAYING THEIR ULITITY BILLS.
Helpful information is available.
More Information
RESIDENTIAL E-WASTE PROGRAM
Free for residents. Drop off dates have been established starting March 14th.
More Information
PAPAL VISIT TRAVEL OPTIONS-SOUTH JERSEY TO PHILADELPHIA
Cross County Connection has complied information on travel options from S Jersey to Phila during the Papal visit on Saturday, September 26 and Sunday, September 27.
For More information
HOUSEHOLD HAZARDOUS WASTE DROP-OFF DAY
Saturday, September 12, 2015 from 9:00AM to 2:00PM at Atlantic County Utilities Authority located at 6700 Delilah Road, Egg Harbor Township, NJ 08234
More Information
PUBLIC AUCTION-LIQUOR LICENSE #011033007006
A public auction will be held for the sale of liquor license #011033007006 at 1700 12th St. Folsom, NJ 08037 on Thursday, September 10, 2015 at 11:00AM. The starting minimum bid is $7500.00. Contact Borough Clerk at 561-3178 for more information.

Welcome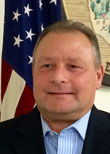 Mayor Louis DeStefano
The Borough of Folsom is a small rural community located in Atlantic County founded in the 1700's. The Borough is approximately eight (8) square miles and has a population of 1,885. We are thirty (30) miles west of Atlantic City and thirty-three (33) miles east of Philadelphia. The Borough is accessible by land via Atlantic City Expressway and Rt 322 just off both exits.
The Borough of Folsom is a community steeped in History and renowned for its sense of family and community. It's a great place to live and raise a family. New Jersey Monthly magazine ranked Folsom as its 19th best place to live in its 2008 rankings of the "Best Places to Live" in New Jersey, Folsom is a community with a proud past and promising future. Thank you for interest in our Borough.
DUE DATE FOR 3RD QUARTER TAXES HAS BEEN EXTENDED TO SEPT. 9, 2015/WITH NO GRACE PERIOD
IF PAYMENT IS RECEIVED AFTER SEPT. 9, 2015 INTEREST WILL REVERT BACK TO AUGUST 1
Job Announcement
Full Time Laborer
Public Works Department
Duties: Position performs skilled labor associated with the maintenance, repair of roads, parking lots, guide rails, and drainage structures. Maintains parks and public facilities. Experience or training in the operation and maintenance of light motorized and mechanized equipment. Ability and willingness to work outdoors and respond to emergencies, such as snow plowing, tree removal, etc.
Wages: $12.00-$14.00 per hour
Req.: High School diploma or equivalent. Valid New Jersey Driver's License, willingness to obtain a Class A CDL
Please see Borough Clerk at 1700 12th St. Folsom, NJ 08037 for application.
"This institution is an equal opportunity provider and employer"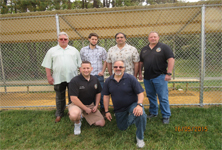 THE DUGOUTS HAVE ARRIVED
For years players had no relief from the hot sun and rain showers during baseball games played at the senior boy's baseball field located at one of Folsom's parks near the Folsom Elementary School.  Up until now, this baseball field was without dugouts.  
View Complete Story
Folsom is participating in a Multi-Jurisdictional Hazard Mitigation Plan. A HMP is a living document that communities use to reduce their vulnerability to hazards. To inform and engage the public and other local and regional stakeholders in the planning process, a hazard mitigation planning website has been developed and can be visited at: www.aclink.org/PDM/.
*Photo is courtesy of Folsom resident Bill Bodine.