Department of Public Works
Emergency?
In the event of any emergency during other then regular working hours, a phone call to the New Jersey State Police (561-1800) will get a member of this department for assistance in an emergency situation.
Major areas of responsibility:
Storm Drains
Public Buildings
Sanitation and Bulk Waste Collection
Questions: 609-561-4487 or 609-561-3178
Click here for the 2022 Recycling and Trash Schedule (Updated 4-12-22).
ACUA Recycling Interactive Calendar Page
Place items out the night before they are scheduled to be picked up.
Place all items curbside in full view, avoiding parked cars.
Limit 40-Gallon Bag or Container acceptable. No 50-Gallon Barrels. NO EXCEPTIONS!!
Limit 50 lbs. per container, bag or item.
DO NOT use boxes for containers-recycle boxes with paper.
Any container out for garbage containing recyclables will be left!
Bulk Trash Examples: Couch, mattress, furniture, carpeting (carpeting must be cut to 4ft. rolls, 40 lbs. per roll, and tied). Only Two (2) Bulk Items per week.
The Borough does NOT collect construction & demolition debris such as sheet rock, shingles, and lumber.
For gas, pesticides, paint, driveway sealer and other such household hazardous wastes call Atlantic County Utilities Authority 272-6960.
Please avoid calling about missed items until 9:00 am in most instances, the problem can be rectified promptly.
Trash will be collected on all Holidays except for Christmas and New Year's Day. If those Holidays fall on a Monday, trash will be picked up the following day.
White Goods (refrigerators, freezers, hot waters heaters,washers and dryers.) must be placed at curbside and call Borough Hall. All doors must be removed.
E-Waste - Starting on 1-1-2011, specific types of E-Waste have been banned from Landfill Disposal including computers (personal/Laptop/Desktop etc), computer monitors, and televisions. Please do not place at curbside. Residents are responsible for disposing of electronics. These items can be recycled at any of the three Goodwill locations in Atlantic County (AC, Cardiff& Hammonton) or at Best Buy, more locations will surely be added in the future. The Electronic Waste Management Act does not cover cell phones, DVD players, VCRs, game consoles, or other electronic devices, although some retailers and service organizations provide opportunities for recycling these items.
E-Waste Drop Off Dates
Streets and Roads
The Department maintains approximately 40 miles of streets within the Borough. There is a County road and two State roads within the Borough, which the Department does NOT maintain. The County road is Mays Landing Rd and the State roads are Rt 54 and Rt 322 .
Street and Traffic Signs: maintain all street and traffic signs on Borough roads.
Paving: Paving projects are prioritized within the engineering committee and the finance committee which then is sent to Mayor & Council for approval.
Potholes: Potholes occur from freezing and thawing conditions and are filled as quickly as possible. Residents phone calls reporting potholes are welcomed.
Snow Plowing: Snowplows are dispatched when snow has accumulated to three (3) inches. Working in conjunction with county and state vehicles, all main roads within the Borough are plowed first, insuring the passage of emergency vehicles. Secondary roads are plowed after main roads have been plowed. Please remove vehicles and portable basketball nets from
the streets where possible to facilitate snow plowing.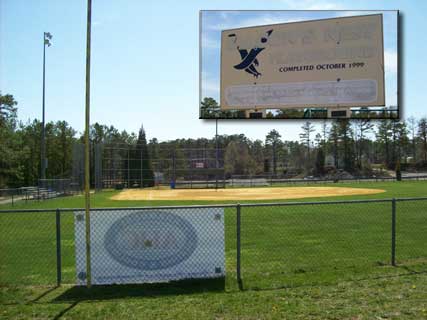 Leaves
Leaf recycling takes place late fall and for the month of April. The Fall collection takes place the last week of October till the third week of December. The exact day collection will take place on any individual street is not possible to determine and depends on the volume of leaves being collected.
Yard Waste
Chipping is done at least twice per month, staff and equipment permitting - no set day. Limbs can be up to 6" rouund (cut on a 45 degree angle). Please have trunk end of all limbs facing the street. This service is for tree trimming only. Large amounts of trees and brush are to be removed by the resident.
Parks and Playgounds
The Department takes care of four playgrounds, four sports fields and four parks and play equipment.