Boards and Commissions
Environmental Commission
Environmental Pledge Program
Folsom School First and Second Graders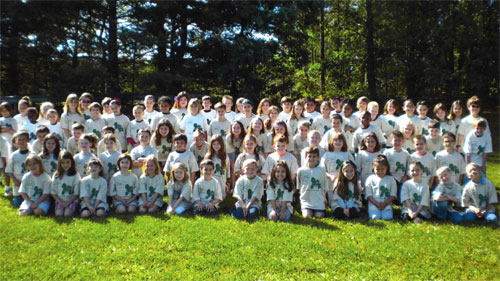 Click here to view the Environmental Pledge
Formed in the early nineties, the Folsom Environmental Commission has provided a number of services to our community.
A comprehensive Environmental Resources Inventory was written and published, defining all of the many natural resources and history of our community. The FEC has also sponsored the bi-annual environmental pledge program at Folsom School, which provides a simple pledge for all first and second graders to review and sign – all participants then receive a special commemorative tee shirt.
The FEC regularly contributes toward the funding required to sponsor the annual Folsom School 6th grade Stokes State Forest trip, sponsors subscriptions to National Wildlife Federation publications for the Folsom School library (Ranger Rick and Our Big Back Yard), provides contacts for education and outreach programs for Folsom School students through other local environmental organizations, and offers sponsorship for local roadside cleanups throughout the community. These have been Boy and Girl Scout groups as well as local citizens.
Due to lack of formal membership, the FEC is currently inactive on a regular monthly basis, but some of the above programs are still being continued. Anyone with questions, concerns or who would like to organize a local roadside cleanup, may contact Joel Spiegel, Chair of the FEC at jaspiegel@excite.com or call at 609-567-0779.
Board of Recreation Commissioners
The Recreation Board meets the 2nd Tuesday of each month in Borough Hall at 7:30 PM.
Parks and Recreation Infomation
Shade Tree Commission
The Shade Tree Commission meets the 2nd Tuesday of each month at 6:30 p.m. at Borough Hall.